Programs

Brochure
This page is the brochure for your selected program. You can view the provided information for this program on this page and click on the available buttons for additional options.
Egypt: Corporate Responsibility & Social Entrepreneurship
Cairo, Egypt
(Outgoing Program)
Egypt: Corporate Responsibility & Social Entrepreneurship (SMPP 6290 & MGT 6297)
---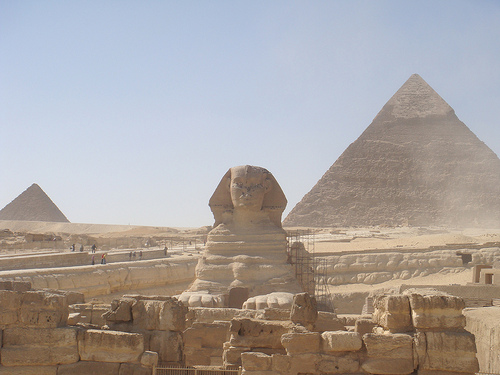 With the global economy precariously situated on the edge of what some call the "second recession," the world waits and watches to see how the Arab Spring continues to shape Egypt and the rest of the Middle East and North Africa. With the growing youth bulge, continued economic stagnation, and political uncertainty—how can Egypt transition into a modern economy with a thriving democratic society? What role can corporations, small business owners and entrepreneurs play in the reform effort? What challenges stand in the way of sustainable economic policies and practices?
These issues and more will be addressed in the GW School of Business' (GWSB) Social Entrepreneurship & Corporate Responsibility, Egypt practicum, open to all GW graduate students. In this collaborative course involving cross-university engagement with faculty and students from Cairo University, Nile University (NU) and other local universities, students will benefit from a rich and challenging learning experience that tasks cross-university teams to write academic case studies on entrepreneurs, small businesses or corporations active in Social Entrepreneurship (SE) or Corporate Responsibility (CR) in Egypt. The best case studies will be published to enrich future learning of SE/CR in the Arab context.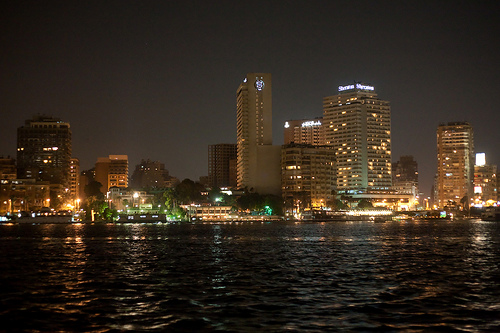 GWSB's Dr. Ayman El Tarabishy, Associate Professor of Management, and Dr. Jennifer J. Griffin, Chair and Associate Professor of Strategic Management and Public Policy, will work closely with counterparts from Egyptian universities, the Egyptian Corporate Responsibility Center (ECRC), the Egyptian Banking Institute (EBI), the United Nations Development Program (UNDP) and other capacity builders and professionals to craft a dynamic, cross-cultural and locally relevant learning experience.
The course will commence on Saturday February 2nd, with faculty from GWSB leading 4-5 classes in conjunction with Egyptian universities participating via videoconference prior to the Cairo study-tour running over Spring Break. During the weeklong study tour GWSB students, alongside their Egyptian counterparts, will engage their case study clients as well as public, private, and social sector leaders shaping the SE/CR landscape in Egypt and the region, with a rich array of events, speakers and cultural activities, including a visit to the Great Pyramids of Giza.
While Egypt faces the task of creating reforms with sustainable economic development policies, the program seeks to understand the drivers and impediments to the adoption of "shared value" principles and practices, as well as to recognize the application of SE and CR in the Arab context and its role in the development of Egypt and the region. It also seeks to examine the intersection of SE and CR under "shared value" and "triple-bottom-line" themes through an intricate examination of SE and CR in practice in the Egypt context. The SE/CR Study Tour experience is sure to shed light on Egypt's path toward development as it grows and changes amid the swirling remnants of the Arab Spring.
2012 Case Study Sample:
Click here
Click here
Click here
2012 Study Tour Photo Album:
Click here
---
Calendar
Information Sessions:
Thursday November 1 - Lunch Provided
TIME: 12:30pm - 1:30pm
LOCATION: Funger 420
RSVP
November 25November 2530pm
OR
Tuesday November 6
-
Webinar
TIME: 12:30pm - 1:30pm
MEETING NAME: Egypt Social Entrepreneurship & CSR Information Session
LINK TO JOIN THE MEETING:
http://icsb.adobeconnect.com/egypt-csr/
RSVP
Application Deadline
:
We are accepting applications on a rolling basis. Email sbintl@gwu.edu to apply!
On Campus Dates

: Pre-Travel Classes

Saturday January 26, 9:00am - 1:00pm

Saturday Feburary 2, 9:00am - 1:00pm

Saturday February 9, 9:00am - 1:00pm

Saturday February 16, 9:00am - 1:00pm

Saturday February 23, 9:00am - 1:00pm

Post-Travel Classes
Saturday April 20, 9:00am - 1:00pm

Overseas Dates:

Arrival date: Friday March 8
Departure date: Sunday March 17

Credits:
UPDATE: 4.5 credits are awarded for successful completion of Professor Giffin's 1.5 credit course and Professor Tarabishy's 3 credit course.
GW Professors:
Professor Jennifer Griffin - SMPP 6297 (On-Campus)
Dr. Griffin holds an MBA and a doctoral degree from Boston University. Dr. Griffin's areas of expertise include Global Stakeholder Strategies, Global CSR, Strategic Issues Management and Corporate Public Affairs. She is also a Research Affiliate at the GW Institute of Public Policy (GWIPP) and the Program Coordinator of the Global Stakeholder Strategies Program in the Institute for Corporate Responsibility (ICR).
Professor Ayman Tarabishy - MGMT 6297 (In-Country)
Dr. Tarabishy holds an MBA and a doctoral degree from George Washington University. Dr. Tarabishy's areas of expertise include Small Business Management, Organizational Change and Entrepreneurship. He has worked extensively with Egyptian companies, NGO's and universities to promote entrepreneurship education and innovation as catalysts for economic growth and development in the region. He also serves as the Executive Director of the International Council for Small Business (ICSB).
Contact Information:
Professor Jennifer Griffin (jgriffin@gwu.edu)
Professor Ayman El Tarbishy (ayman@gwu.edu)
*************************************************